Jane has a true gift for design. Her taste is timeless, unique and has exceeded my expectations. She has an amazing eye for color and style.
She is always available throughout the entire process and was there to make delivery and set up a smooth process. I have used her on several projects and will continue using her in the future.

Jane has a natural born sense of style. She is able to effortlessly create a high end vision that not only blends my own want and needs, but brings it to a level that was thought to be unattainable. She is an absolute joy to work with and well worth every moment you spend with her. We have had her services for multiple jobs and she always leaves us wanting more! I cannot tell you how many people visit and are just stunned. Thank you Jane, you're irreplaceable.

Jane is a fabulous interior designer. I was lucky enough to have her help me with two totally separate projects. Her attention to detail is amazing and no matter if your style is modern, contemporary or traditional she will make your house look like the most amazing place on earth. She sees things that normal humans like me miss. She saves money where needed and also spends where it counts the most. You will not be sorry if you hire Jane Reece.

Jane is a delight to work with. Fun and inspiring! She will truly elevate your living space beyond what you thought possible. We have had R Designs services for multiple projects. From color consultations, to room makeovers, all the way to full bathroom remodels. Her sense of lux style will without a doubt make your project the envy of friends and neighbors. Would not think twice about hiring her again.

Jane was a pleasure to work with throughout my remodel. She quickly understood the style I was trying to achieve. Her incredible options were so much fun to pick from during the design. She is easy going and a joy to work with everyday. I highly recommend Jane.

Fantastic skills, super talented and great to watch her in action!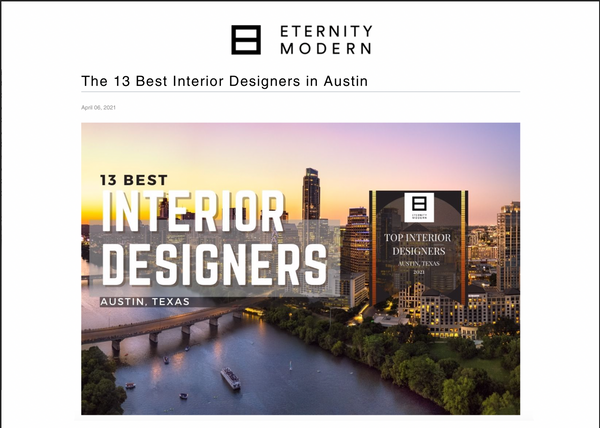 "This nationally recognized interior design firm from Austin is helmed by Jane Reece, whose dedication and passion to curating beautiful spaces has won many hearts over the years. She is not only a style icon, but is also a warm person who takes joy in her client's pleasure when they experience her spaces. From the smallest of details to the largest of accents, she can certainly bring your vision to life.
Reece's entire portfolio is a sight to behold. Each space that she's designed is full of personality, charisma, and style. There's an undercurrent of elegance in every single project that is layered with focused detailing, eclectic accessorizing, and contemporary vibes. Her work is an inspiration for everyone that beholds it." Eternity Modern, 2021